Airheads white mystery is nothing but a white color chewing gum-like candy that is available on the market. It is liked by all people due to its unique taste.
Wrapping of Airheads White Mystery is also very unique. It is present inside a silvery-white packaging with grayish strips. The packet itself reflects something mysterious inside it. There are Airheads printed on the packet with a balloon containing a smiley in between Air and Heads. It also contains two question marks that reflect something mysterious inside it.
What flavor is airheads white mystery?
Airheads white mystery flavor is really mysterious. The company hasn't revealed its process to produce it. The airheads white mystery flavor is still unknown. Other flavors of airheads are Grapes and Blue Raspberries.
Some people claim flavors of airheads white mystery is like watermelon and strawberry. There are also people who claim airheads white mystery flavor like lemon. Others claim airheads white mystery has a slightly sour and slightly sweet taste.
What people think about Airheads White Mystery Flavour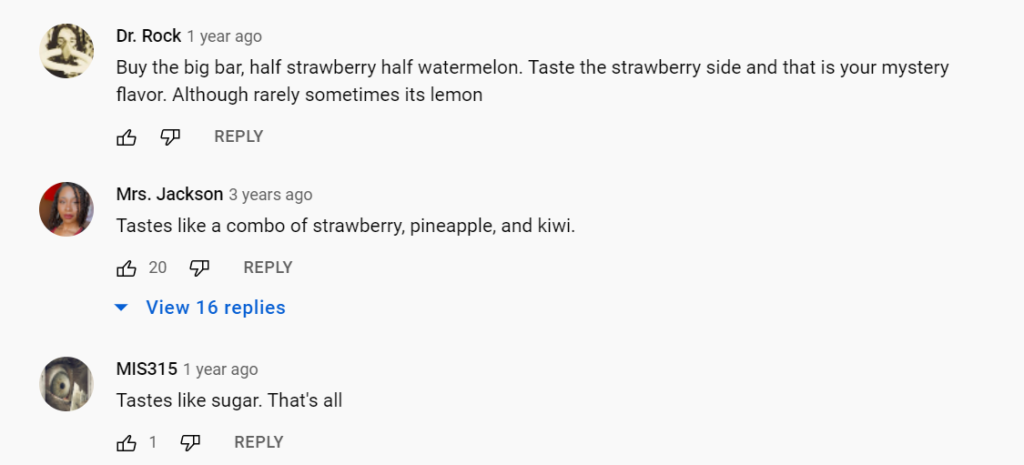 What are the ingredients present in the airheads white mystery?
Below is the list of ingredients that are present in airheads white mystery:
Sugar
Corn Syrup
Maltodextrin
Dextrose
Modified Corn Starch
Partially hydrogenated soybean oil
Water
Citric Acid
Artificial Flavors
Colour
#Airhead white mystery is nut-free.
#It is produced in a facility that also processes products made up of wheat.
Nutritional Facts about airheads white mystery
| | |
| --- | --- |
| Price | $ 0.95 |
| Calories | 60 |
| Fat | 1 g (1%) |
| Carbohydrate | 14 g (5%) |
| Protein | 0 g |
| Weight | 16 g |
Nutritional Facts and Price
The pack also says that it doesn't contain a source of other significant nutrients.
Try airheads white mystery to explore what flavor it has. Do let us know what you think about it in the comment section below.