Ready to tackle the basement? Whether you're renovating an existing space or building from scratch, revamping your home below ground level is not an easy project. If you've ever taken on a home renovation, then you know it often takes hours of planning and coordination before any work begins. Today we are here to give you top tips and tricks for making sure your basement makeover is done properly and efficiently! So put on those DIY gloves — let's get ready to remodel down below!
Consider consulting with an expert
Undertaking a home renovation project can be both exciting and overwhelming. There are many important factors to consider: design, functionality, and budget — just to mention a few. Without proper planning and execution, a basement renovation can quickly turn into a disaster. In this case, you want to consult with an expert like https://www.finishedbasement.ca/ before diving into the project. Working with an experienced professional can provide valuable insight into the renovation process and help you make informed decisions that will ultimately result in an exceptional finished product. From structural concerns to finishing touches, an expert can guide you every step of the way, ensuring that your basement renovation is a success.
Plan before you start
Before diving straight into your basement renovation, it's important to plan ahead. One of the key aspects to consider is the layout of the space. Think about how you currently use the space and if there are any changes you'd like to make. Would you benefit from a more open concept or perhaps adding a separate room or area?
The color scheme is another crucial element to consider. Selecting the right colors can drastically impact the overall mood and feel of the space. Lastly, keep in mind the potential uses for the space. Are you giving the room a specific purpose, such as a home office or workout room? Having a clear idea of the function of the space will guide your design decisions and make sure that the result is both functional and visually appealing.
Look at ways to add natural light
It's no secret that natural light brightens up your space, lifts your mood, and adds a touch of warmth to any room, including your basement. But what can you do if your space lacks natural light? Installing a window or skylight is a great solution. Aside from bringing in natural light, it can also add ventilation and make the space feel more open and inviting.
When considering window or skylight placement, think about maximizing the amount of sunlight that enters the room while still maintaining privacy. After all, your basement is still part of your home and you may not want to feel like you're on display.
Choose the right flooring option
Unlike other areas in your home, basements are prone to moisture and temperature fluctuations. This means that not all types of flooring will work well in this space. Hardwood and carpet, for example, may not hold up well in a moist environment.
Instead, opt for luxury vinyl plank (LVP), ceramic tile, or concrete flooring. These options are durable, water-resistant, and can withstand changes in temperature without warping or cracking. Plus, many LVP and tile options mimic the look of hardwood or stone for a fraction of the cost.
Make sure you insulate well
Insulation is often an overlooked aspect of basement renovations, but it's essential to ensure a comfortable and energy-efficient living space. Proper insulation will regulate the temperature and reduce noise transfer between floors. Not to mention, it can also prevent moisture buildup and potential mold issues.
When deciding on insulation for your basement, consider factors like R-value (the measure of insulating ability), local climate, and potential moisture concerns. Fiberglass batts and spray foam are common insulation options, but it's best to consult with a professional for the best choice for your specific space.
Utilize vertical space
If you're looking for a way to optimize the storage space in your basement, it's time to start thinking vertically. By simply installing shelves or cabinets, you can transform your cluttered basement into a well-organized space with plenty of room to spare. Utilizing vertical space is a smart way to store items that might otherwise clutter your floor or countertops.
Whether you're looking to store seasonal decorations or just need a place to stash your DIY tools, shelves and cabinets provide a practical and convenient solution. Best of all, they can be customized to fit any style or design preference, making them a great addition to any basement space!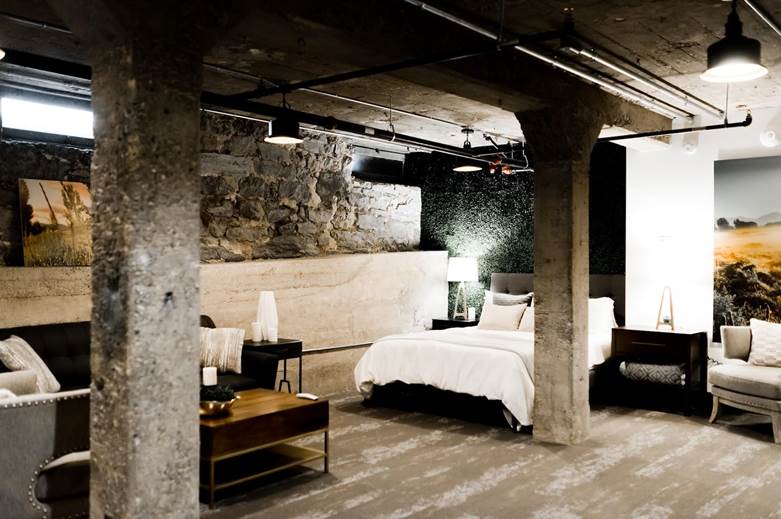 The journey of basement renovation might be challenging but, with the right planning, professional advice, and careful selection of materials, you can transform your basement into an inviting, functional space that adds value to your home. No matter if you're creating a home office, a home theater, or a well-organized storage area, remember that the key to a successful basement makeover lies in considering the unique characteristics of the space and tailoring your design accordingly. Here's to your successful basement renovation!