Deciding it is finally time to get engaged is an exciting, invigorating and adrenaline-pumping process. But, remember with this decision comes the process and that process is finding the ring, the right outfit, the right time and the one that brings it all together, the location! Your engagement pictures are going to last beyond a lifetime, with a high probability of pictures being passed down from one generation to the next.
You want the location to stand out, grab attention and be a place that perfectly represents the two of you. On top of this, you want your proposal to be unique instead of mediocre, we've gotten enough of Disney and hotels. We all know there are a plethora of engagement venues all over Australia. To help you break it down I have listed out 4 of the best locations that give you a breath-taking experience in Australia:
1. Heart Reef
Located on the golden coast of the sunshine state, Queensland. If you and your partner love all things beachy with a touch of some vibrant reefs then the Heart Reef is the perfect proposal venue. Yes, a heart-shaped reef may be a bit cheesy, but will surely set the mood. Your partner will definitely love the experience and be appreciative of the stunning views and sincere gestures.
2. Barossa Valley
A hidden gem in South Australia, the Barossa Valley is the right place for a daytime proposal. If you feel your head is about to explode from waiting any longer, this is the ideal place for you to finally get engaged. You could take the one-of-a-kind hot air balloon flight.
This flight will literally help you drift away in the romance of a beautiful sunrise and give you an all-around view of the lush greenery. If you are looking for intimacy and peace when you propose, this will be a great fit for you.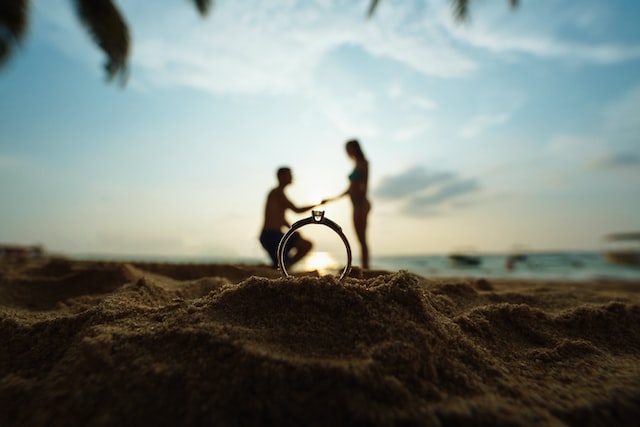 3. Daylesford
Spa destinations are the new hype in Aussie culture. If your partner is a spa fanatic then Daylesford is the premier spa location that will get a YES out of your partner. Located in the garden state of Victoria and is the best place for romantic pampering before proposing. This state will leave you with many proposals' worthy destinations.
From, spa treatments at Hepburn Spring to trailing through the lilac flora and lavender flowers in Lavandula. All the locations in Daylesford will leave you wide-eyed and awe-inspired. To find the perfect engagement rings Australia has many stores that offer the best diamond rings. So, all you need is the right moment to pop that question!
4. Cable Beach
A beach like no other located in the depths of Western Australia. Cable beach is surrounded by pristine white sands, sparkling aqua-hued waters and tangerine soil that reminds you of a fiery sunset. There are many activities you can do. But, for the best proposal experience take a romantic camel ride during the sunset. A ride during the sunset will make your partner feel like Middle-Eastern royalty. How can anybody say no after this? 
When you choose a destination, you are choosing an experience! Pop the question at the ideal location.