A backyard can be much more than a simple outdoor space. With the right updates, it can serve as an oasis for relaxation, a playground for children, or an ideal spot for social gatherings. The importance of investing in high-quality backyard updates cannot be overstated. Not only do these enhancements increase the aesthetic appeal of your space, but they also boost the overall value of your property. In this article, we explore six backyard updates that, while they may appear as a splurge at first glance, are truly worthwhile investments in the long run.
1. Invest in Quality Outdoor Sunrooms
Sunrooms allow you to enjoy nature's expanse from the comfort of your home, regardless of the weather. They serve as a defined transition area between indoor and outdoor spaces, providing a well-lit, comfortable zone to relax, work, or entertain guests. Imagine basking in the warmth of the morning sun or enjoying a panoramic view of the starlit night sky, all while shielding from seasonal inconveniences like bugs or inclement weather.
The team at Tip Top Yards can help you create an easy and accessible shopping experience while providing the highest quality sunroom construction. You can visit their site and check out their various backyard products. A sunroom with high-quality materials will make a lasting impression on your backyard.
2. Install An Outdoor Kitchen
An outdoor kitchen can revolutionize the way you entertain guests and family. With an outdoor grill, refrigerator, sink, countertop space, and even storage cabinets all in one place, you'll be able to prepare meals outdoors for the perfect backyard barbecue easily. The possibilities are endless – cook a healthy meal, have a romantic dinner beneath the stars, or host an evening party with friends.
Ease of installation is another factor to consider when shopping for outdoor kitchen products. Many companies offer pre-assembled kits that are delivered right to your doorstep. Customizing the kitchen to your specific needs and space is also available. You can make the most of your backyard year-round with an outdoor kitchen.
3. Incorporate Smart Landscaping Elements
Adding a few smart elements to your landscaping is a great way to spruce up your outdoor area without breaking the bank or taking too much time. Drip irrigation systems, for instance, allow you to water your plants automatically without manually turning on the hose every day.
Motion-activated lights are also great for illumination when walking around in the dark. You can even install a sensor to detect which areas of your backyard need mowing and send out an alert so you can tend to them without manually inspecting them.
4. Include A Fire Pit
Nothing sets a warm and cozy atmosphere like a fire pit in your backyard. Not only is it an affordable addition, but it also provides a comfortable place for nighttime conversation or roasting marshmallows over the open flame. Fire pits come in various sizes, materials, and styles to suit your needs and budget.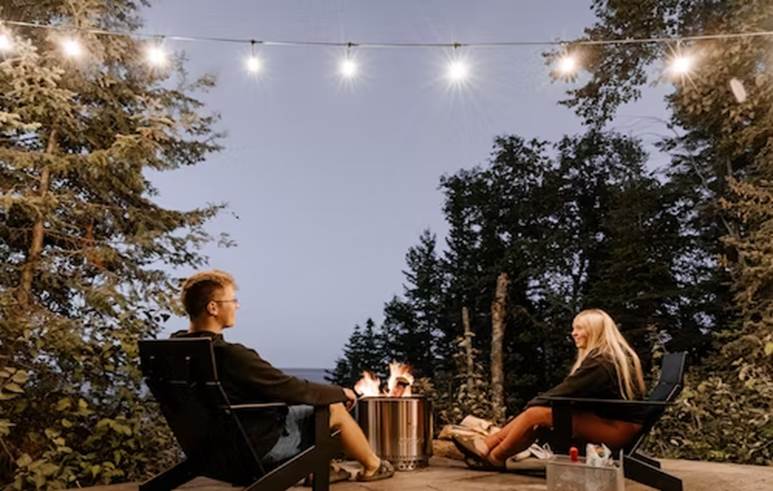 You can even set up a fire pit to double as a grilling station for delicious food cooked over the open flames. If you're looking for an alternative to traditional fire pits, consider a gas-powered model that requires little maintenance and still provides the same warmth and atmosphere of a wood-burning fire pit.
5. Add A Fun Play Area For Kids
Installing a kid-friendly play area in your backyard can keep them entertained for hours while allowing parents to relax and enjoy peace. From slides, swing sets, and rope ladders to playhouses, pirate ships, and seesaws, the options are endless when creating a fun and safe environment for your kids.
Make sure to consider factors like safety ratings and weather resistance before making a purchase. It's also important to consider how much space you have and which items will fit best. Whatever you choose, your backyard will become the go-to spot for neighborhood kids and their parents.
6. Add Comfortable Seating With Cushions
A great way to spruce up your backyard is with comfortable seating and cushions. They provide a comfortable spot to relax and read, get together with friends for conversations, or sit back and soak up the sun's rays. Invest in weatherproof seating that withstands the elements and won't easily fade over time.
Look for durable, fade-resistant fabric for outdoor cushions to withstand the elements without deteriorating. Make sure to measure the area before you buy cushions or furniture – this way, you'll avoid any unnecessary purchases and make sure that everything fits perfectly in your space.
These six backyard updates are worth investing in if you want to spruce up your outdoor area. They add value to your home and help create an inviting atmosphere for friends and family to gather and enjoy nature's beauty. They can turn your backyard into an oasis of relaxation and fun, making it the perfect retreat from the hustle and bustle of everyday life. With the right updates, you can make the most of your backyard for years.