Organizing your personal space is a great way to improve your quality of life. Not only does it help you keep track of your belongings, but it also frees up time and energy for other activities. It's never too late (or too early) to improve organization in every corner of your home. Whether you're looking to declutter your home or streamline your daily routine, this guide will provide essential tips and tricks to help transform your chaotic life into a well-run one.
1. Rent a Storage Unit
Renting a storage unit can be a versatile solution for dealing with clutter, storing seasonal items, or facilitating a move. They come in various sizes, providing the flexibility to store anything from a few boxes to the contents of an entire house. This option allows you to keep your home clutter-free without having to part with items that may still hold value or sentiment.
However, it's important to remember that while storage units offer many benefits, they also come with a cost. Before renting, it's crucial to assess whether the monthly rental fee is within your budget and whether the items you plan to store are worth the cost. With a simple storage box, you can keep your home organized without paying for a full-sized storage unit. Consider sorting your possessions and parting with unnecessary items before deciding on a storage unit.
2. Create Organizational Systems
Creating organizational systems around the home can help you keep track of your belongings. This could involve designating specific spots for items, creating labels or color-coding systems for drawers and cabinets, and investing in proper storage containers. For example, if you have a large collection of books, consider purchasing multiple bookcases for easy categorization.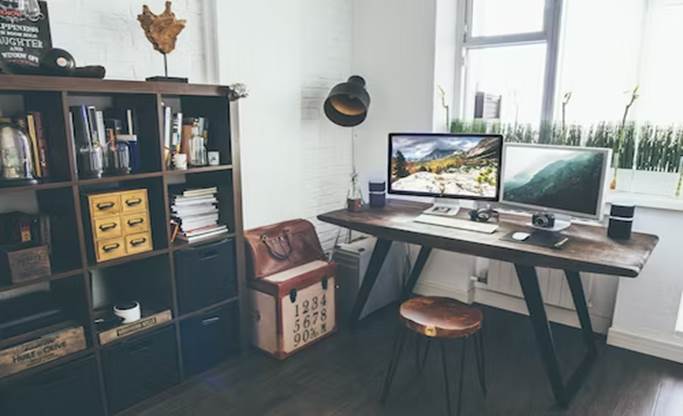 Many stores also sell plastic drawers or baskets to store items like documents, cosmetics, and electronics accessories. This way, you can easily spot what you need without rummaging through all your possessions. Once everything has been sorted into categories, it will be easier to find items when needed and to put them away after use.
3. Schedule Your Chores
A great way to stay organized is by creating a routine with your chores, like dusting surfaces and vacuuming carpets every week. To simplify these tasks, try breaking them down into smaller increments and tackling them individually. Additionally, you can set reminders on your phone so that they become second nature.
Making time for these activities will help you stay on top of the mess and make it easier to tackle bigger projects in the future. Setting aside a few hours each week will also help maintain your sanity during especially busy times, such as school or work transitions. With consistent effort, organizing your home will become second nature.
4. Make Cleaning Easier
When tackling a large cleanup job, time can be an issue. To make things easier and faster:
Try using the right tools for the job.
Look into different types of vacuum cleaners to find one that suits your needs.
Consider investing in expandable dusters or extended handles for cleaning supplies for harder-to-reach areas.
You can also purchase multi-functional tools, such as cleaning brushes with interchangeable heads or steam mops that double as vacuum cleaners. This way, you can get the job done in half the time and prevent future messes from forming by wiping down surfaces more frequently.
5. Donate Unused Items
One of the most effective ways to organize your home is by removing items you no longer need. Streamlining your possessions will make it easier to keep track of everything and put things back in their right place when not in use.
Consider donating clothes and accessories that are gently used or new but never worn. Books, toys, and other items can also be donated if they are still in good condition. With the money you save from removing unused items, you can purchase a few organizational tools to keep everything neat.
6. Utilize Technology
Technology can be a powerful tool to help organize your life. You can create daily reminders for tasks like cleaning up after meals or running errands using apps and digital calendars. You can also store important documents in the cloud so they're always within reach but not occupying precious space on shelves or drawers.
You can save time by automating laundry or scheduling grocery deliveries. This will help you stay on top of your daily tasks and free up more time to do the things you enjoy. With the wealth of digital resources available, organizing your home has never been easier.
Finalizing your personal space can be a manageable task. You can transform your home into an orderly sanctuary with the right strategies and tools. Whether decluttering or creating organizational systems, keeping your home tidy has numerous benefits, such as freeing up time for other activities and boosting productivity. Start today by setting small goals, and soon enough, you'll be on your way to living a well-run life.