Are you looking to purchase a new bike? Whether it is your first one or an upgrade from an old faithful, buying a bicycle can be overwhelming with all of the options available. With countless models, sizes, and features to select from — not to mention the range of prices — settling on the right ride for your individual needs and preferences can seem almost impossible. To make sure you make the best decision, there are several important factors that need to be taken into consideration. In this blog post, we will explore these considerations and help provide guidance towards finding the ideal bike for you!
Determine a Budget
Choosing the perfect bike can be a daunting experience, especially when it comes to deciding how much money you are willing to spend and what accessories you'll need. Whether you are a casual rider, fitness enthusiast, or cycling enthusiast, it is important to determine your budget beforehand, to avoid any disappointment later on. Keep in mind that your budget should include not only the cost of the bike, but also any essential accessories such as a helmet, water bottle, or cycling shoes. By setting a budget, you can ensure you get the most bang for your buck without overspending. So, take some time to assess your finances and think about what accessories you need to enjoy cycling to the fullest.
Research Different Types of Bikes
Researching different types of bikes can be an exhilarating experience, as you delve into the vast world of cycle options available today. Are you looking for an adrenaline rush as you hit the off-road trails, or do you prefer to cruise the city streets in style? Perhaps a hybrid bike is the perfect fit, allowing you to move between different terrain with ease. It's essential to consider your individual needs and riding style when making a decision. Whatever your preference may be, exploring the various designs and features of bikes will undoubtedly lead you to the perfect ride. So saddle up and venture out into the world of cycling possibilities.
Test Ride Different Bikes
If you're in the market for a new bike, it's important to test-ride different models and materials to find the perfect fit. The right bike can make all the difference when it comes to comfort and performance, but with so many options available it can be hard to know where to start. When you take the time to test out different bikes, you'll get a sense of how each one handles and be able to make an informed decision about which one is right for you. Whether you're looking for a lightweight carbon fiber frame or a sturdy steel option, there's a bike out there that's perfect for your needs. So head to your local bike shop, hop on a few models, and find your perfect ride.
Get the Right Size Bike
Purchasing a new bike can be an exciting experience, but it's important to ensure that it fits comfortably for an enjoyable ride. To get the right size bike, it's essential to measure yourself against the size chart provided. It may seem like an insignificant step, but it can make a significant difference in your overall biking experience.
There are several types of bikes, each tailored for different kinds of riding. Mountain bikes, with their robust build and shock-absorbing features, are perfect for off-road trails and rocky terrains. Hybrid bikes offer a combination of the best features of both road and mountain bikes, making them versatile for both city streets and light trail riding. Cruiser bikes with their relaxed design and comfortable seating are ideal for leisurely rides around town or on flat, scenic trails. Lastly, road bikes, designed for speed, are ideal for paved surfaces and long-distance cycling. A road bike size chart is an invaluable tool that provides you with the necessary measurements to match the bike frame size to your body size, ensuring optimal comfort and performance while riding. A bike that is too big or too small can cause discomfort, pain, or even injuries in the long run.
By taking the time to ensure a proper fit, you'll be able to ride with ease and comfort, making the most of your new bike adventure.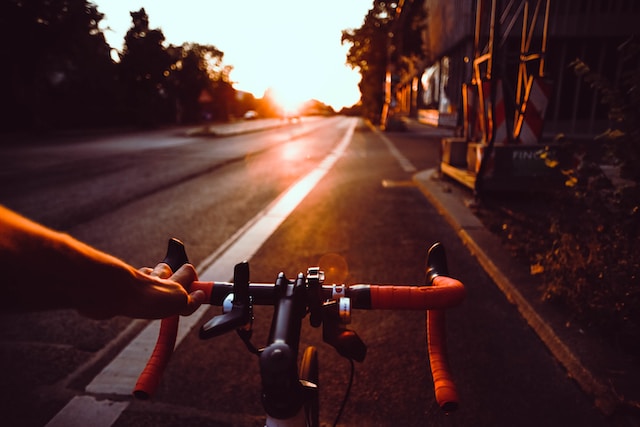 Ask About Add-ons & Accessories
When it comes to biking, sometimes you need a little something extra to make your ride more comfortable or efficient. That's where add-ons and accessories come in. Mudguards can keep you from getting dirt and debris all over your clothes, while saddle bags can provide useful storage space for your belongings. And don't forget about lights – they may be crucial for nighttime rides or early morning commutes. So next time you're shopping for a new bike or just looking to upgrade your current one, make sure to discuss your options with the retailer. You may be surprised at how much of a difference these extra features can make in your overall biking experience.
Check Warranty Details
Make sure you understand the terms before you purchase so that in case something goes wrong, you are covered. Many manufacturers offer a warranty on the frame, components, and even labor for a certain amount of time after purchase. Be sure to read and understand the details of any warranty offered so that you can make an informed decision about your investment. Additionally, you may want to consider purchasing a bike insurance plan for added peace of mind. By being proactive and understanding your options, you can protect yourself from any unforeseen incidents that may occur.
The process of purchasing a bicycle involves more than just selecting a design that catches your eye. There are numerous factors to consider, from determining your budget to understanding the different types of bicycles available, test riding various models, ensuring you select the right size, considering additional add-ons and accessories, and understanding the warranty details. By taking the time to carefully evaluate your biking needs and preferences, you can ensure that you're making the best possible investment for your lifestyle, ensuring countless hours of enjoyable riding for years to come. Remember, a well-informed decision will lead not only to a better purchase but also to a more enjoyable cycling experience.