Making an engagement ring purchase is one of the most important decisions you'll ever make, and it can be daunting to decide what style you should choose for such a momentous symbol. Whether you're opting for traditional or modern, luxury or budget-friendly, understanding the nuances of different styles and settings will help ensure that the ring shines bright on your partner's finger for years to come. Keep reading to discover all you need to know about selecting the perfect engagement ring style!
Consider Your Lifestyle
Engagement rings come in a variety of styles, but not all will suit your lifestyle. If you or your partner are active and using your hands frequently, a more durable setting like a bezel or half-bezel may be preferable over prong settings that can snag on clothing or get damaged easily. On the other hand, if you prefer an elegant look for special occasions, a pavé or halo setting with intricate detailing may be a better fit. From oval shape engagement rings to marquise-cut engagement rings, it's important to consider how your ring will fit into your everyday life. If you're planning on wearing your ring every day, prioritize comfort and practicality over aesthetics. This will ensure that your ring stays safe and secure no matter where you go.
Think About Metal Types
When it comes to selecting metal types for your wedding ring, it's important to think beyond just aesthetics. After all, this band will symbolize your commitment to each other for years to come. You want to choose a metal that not only looks beautiful but also stands up to your daily routine. While some metals may be more affordable or trendy, they may not have the same level of durability as others. For example, gold and silver may be classic choices, but they're softer and more prone to scratches and dents. Consider opting for a harder metal like platinum or titanium that can withstand the wear and tear of everyday life. By selecting a lasting metal type, you can ensure your ring remains a lifelong symbol of your love and devotion.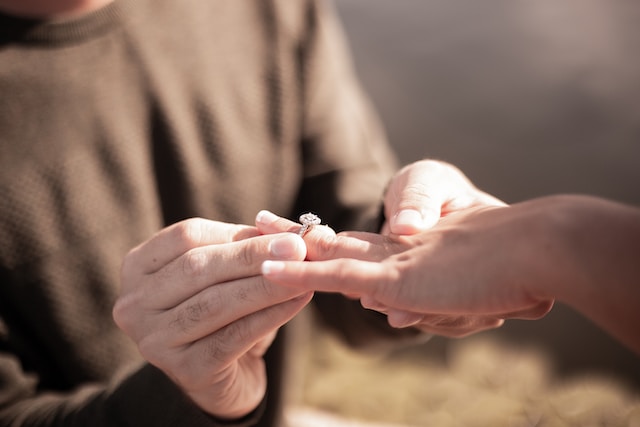 Pay Attention to Stone Shapes and Sizes
When choosing a stone for an engagement, many people default to the classic round brilliant cut. While this is certainly a timeless option, there are plenty of other shapes and sizes to choose from that can add a unique touch to your piece. From the elongated elegance of an emerald cut to the bold lines of a princess cut, a different stone shape can completely change the look and feel of your jewelry. Whether you want to stand out from the crowd or simply want to find a shape that perfectly complements your personal style, paying attention to stone shapes and sizes can open up a world of possibilities.
Choose The Right Setting For You
If you have a specific style in mind, it's important to consider the different types of settings that can enhance your desired look. Traditional prong settings, where small metal claws hold the stone in place, are a popular choice for their classic and elegant appearance. Bezel settings, on the other hand, provide a more modern and sleek look by encasing the center stone with a thin metal rim. For a more unique option, consider tension settings that use the pressure of the band to hold the stone in place, giving the illusion of a floating diamond. Whichever setting you choose, make sure it not only complements your stone choice but also suits your personal style and preferences.
Know How Much You Can Spend On The Ring
Choosing the perfect ring for your loved one is a significant and exciting decision. However, before you embark on the hunt for the ring, it is essential to establish your budget. Deciding on how much you can comfortably spend on the ring will ensure that you do not overspend and incur unnecessary debt. Researching prices beforehand will also aid you in gaining insight into the different styles and costs of rings, which will allow you to make an informed purchase. Remember, the ring is a symbol of your love and commitment, and that should remain the focus. So, decide on an appropriate budget and stick to it!
In conclusion, when it comes to choosing the perfect engagement ring, it's all about personal preference and your budget. Keep in mind the lifestyle you lead, what type of metal you want for the band, the shape and size of the stone, the setting to choose from, and above all how much you can spend on a ring. Knowing these factors can help make choosing your engagement ring a bit easier. And lastly, once you've chosen your ring– make sure to get an appraisal– that will go a long way if you ever need to replace it in the future. Now that's something to keep you in good stead! So take this advice and start shopping today for the perfect token of love that will truly last a lifetime.