When dressing formally, the details matter. It's not just about a well-tailored suit or a perfect little black dress; it's the subtle accessories that add style and elegance. These embellishments, ties, cufflinks, scarves, or jewelry can elevate your outfit and create a memorable impression without compromising sophistication. This guide offers tips for accessorizing formal looks with flair and finesse.
1. Customize Your Lapel Pin
Lapel pins make a distinct style statement, adding refinement and individuality. Customize your pin to express your personality, affiliations, or interests. From your company's logo to a symbol with special meaning, the options are limitless. Pay attention to size, design, and color to complement your outfit without overshadowing it.
Also, the placement of the lapel pin on your jacket is vital – it should be worn on the left lapel, around the height of your pocket square or heart. You can learn more at pinprosplus.com about custom-made lapel pins. When chosen carefully, a customized lapel pin makes you stand out and subtly communicates your sense of style and elegance in a formal setting.
2. Invest in a Quality Watch
Besides its primary function of telling time, a watch indicates your style and personality. It's a subtle accessory that can speak volumes about your tastes, attention to detail, and appreciation for craftsmanship. When shopping for a watch, it's essential to consider factors such as the brand, quality of materials, and movement (mechanical, automatic, or quartz).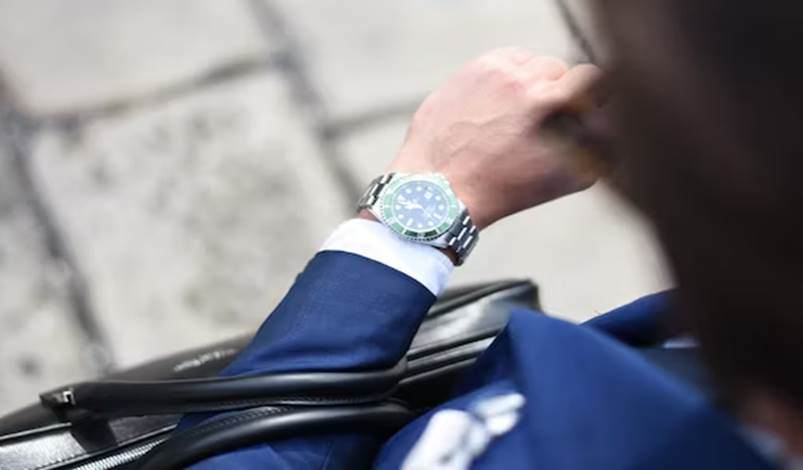 High-end watches often appreciate over time, making them a fashion statement and a potential investment. Opt for a timeless design with a neutral color palette for maximum versatility with various outfits. Whether at a business meeting or a black-tie event, a quality watch can add a touch of class and sophistication to your formal look.
3. Add a Pocket Square for Extra Flair
Tucked in your jacket's breast pocket, a pocket square makes a stylish statement. Traditionally silk, it can also be cotton, linen, or wool, each with its texture and look. Coordinate its color and pattern with your tie, but avoid an exact match – let your creativity and style shine. How you fold it also affects your overall look.
Whether you opt for the classic one-point fold for a traditional look or the puff fold for a touch of glitz, remember that the pocket square should enhance your outfit's harmony, not detract from it. Also, ensure your pocket square is clean and neatly folded for an impeccable finish. A well-chosen pocket square can elevate your formal look, adding sophistication and elegance.
4. Cuff It Up
Cufflinks are often overlooked, but they are an essential accessory when putting together formal attire. Opt for classic styles that stand the test of time and allow you to mix and match easily with various ensembles. Moreover, cufflinks can display your interests or hobbies – from sports teams to animals, there's no limit to the designs you can find.
Cufflinks offer endless options beyond just metal. They come in various materials like plastic, stone, wood, and glass. Consider practical aspects, too, such as strong clips for better grip or adjustable switches for easier fastening. Express your personality without compromising on the sophistication of your formal look.
5. Tie It Together
A tie is a popular and recognizable accessory for formal wear. Whether you're going to a business meeting or an evening gala, your choice of necktie makes a style statement without being overly flashy. Opt for quality silk in dark shades like navy blue or charcoal gray for versatility, and explore different patterns available.
Pay attention to the length and width of your tie. It should complement your body type, reaching just below the waistline and never exceeding four inches in width. Choose a classic knot like the half-Windsor or full-Windsor, avoiding intricate or bulky knots. Also, ensure the tie color matches your outfit, tying together your formal look.
6. Add a Scarf
Scarves have become increasingly popular for formal attire, offering a touch of sophistication and warmth to any outfit. Choose a lightweight scarf in neutral colors and soft textures like cashmere or silk; avoid chunky fabrics that can appear too bulky on your ensemble.
When it comes to wearing a scarf, there are various knots to choose from – from the classic drape to more intricate styles like the ascot knot. Experiment with different looks until you find what suits you best – it's all about personal preference and complementing your outfit. You can even opt for a scarf with a unique pattern or print to elevate your style and exude confidence and elegance instantly.
Accessorizing is a great way to showcase your personality and elevate any formal look. When done correctly, accessorizing can add a layer of sophistication and elegance to your ensemble while allowing you to express yourself and stand out from the crowd. All it takes is creativity, a sense of style, and the right accessories. And with that, you'll be ready for any formal occasion.